Top-Quality Awnings Installed for Homeowners in Savannah, GA, and the Surrounding Communities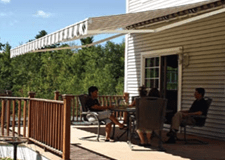 Porch Outfitters is proud to provide premium awnings to homeowners in Savannah, Georgia, and all nearby areas. Our products are designed to provide extra comfort and shade as well as UV protection to outdoor living spaces such as decks and porches.
At Porch Outfitters, we ensure the homeowners we serve in Savannah, GA, receive the greatest value in new awnings by providing a range of products from the trusted manufacturer Bel-Aire. Each awning is made with marine-grade Sunbrella fabric that is extremely durable and can lower the temperature of the shaded area by 20 degrees, making it the perfect choice for homeowners who want to escape the scorching summer heat.
We offer three models of premium awnings, including:
The Newport – Self-supporting and retractable, this model adds fashion and function at a highly affordable price.
The Hampton – This retractable model features a flex pitch shoulder, which makes it easy to adjust the pitch with the simple turn of a hand crank.
The Robusta – This retractable model installs over windows to provide privacy and shade as well as to reduce heat transfer into the home.
Turning to Porch Outfitters for awnings is a wise decision not only because our products are of the highest quality, but also because we provide the finest installation services available. After serving local residents since 1987, we earned an A+ rating with the Better Business Bureau, as well as numerous industry awards, speaking to our commitment to quality workmanship and customer satisfaction.
To learn more about the awnings we install on homes in Savannah, GA, contact Porch Outfitters today.