An Operable Pergola Adds Flexibility to Your Outdoor Living Space in Bluffton, SC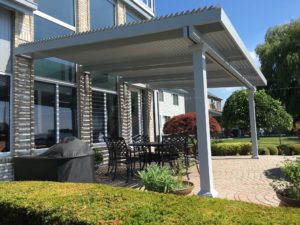 It's easy to see why pergolas are so popular among homeowners in Bluffton, South Carolina. Their decorative columns and slatted roofs provide a beautiful accent that can define any outdoor living space, including pool decks, gardens, and patios. However, when it comes to functionality, many homeowners feel pergolas leave something to be desired, as they don't provide total cover from the sun and rain.
At Porch Outfitters, we offer operable pergolas that can be quickly and easily transformed into a solid-roof patio cover. Now, you can add a design element to your yard that is as practical as it is beautiful. When the weather is nice, keep the roof slats open to enjoy the sunshine. When it rains or the sun becomes too intense, close the slats on your operable pergola with a simple press of a button.
A Lifetime of Performance
Your operable pergola will come from the industry's most highly regarded manufacturer – TEMO. Made from extruded aluminum with innovative TEMKOR surfacing, your pergola will be incredibly resistant to damage from impacts and will never corrode, even after years of exposure to the elements. In fact, the structure of your pergola will be backed by a lifetime warranty.
Additional features of our operable pergolas include:
A slow-motion motor that will provide reliable operation over the long term
Electrical raceways that hide power cables so they don't detract from the beauty of your pergola
Louvers with an extruded design to channel rainwater away from the structure.
Exceptional Service
As outdoor living specialists who have been serving local homeowners since 1987, Porch Outfitters has a proven commitment to providing an incredible value. We achieve this by not only offering top-of-the-line products, but also employing highly trained and experienced in-house technicians – not subcontractors – to handle all installations. We're so confident that you'll be satisfied with our results that we provide an unrivaled lifetime workmanship warranty.
Begin the process of having an operable pergola installed at your home in Bluffton, SC, by contacting Porch Outfitters today.