Enhance Your Outdoor Space in Hardeeville, SC, With an Operable Pergola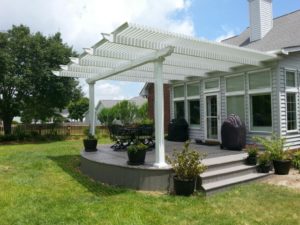 A pergola is the ideal solution if you'd like to add a charming design element that defines part of the outdoor space at your home in Hardeeville, South Carolina. However, while you may love the look of a pergola, you might not like that it provides only partial shade from the sun. Fortunately, Porch Outfitters provides a solution that offers complete shade without sacrificing aesthetic appeal – operable pergola systems.
How Do Operable Pergolas Work?
A typical pergola has vertical slats that are spaced and locked permanently in a vertical position, allowing sunlight to filter through. However, with an operable pergola, you can flip a switch to rotate the slats into a horizontal position, creating a solid roof. This provides much more flexibility. Leave the slats open when you want to enjoy the sunshine and close them when it gets too hot or inclement weather strikes.
Benefits of TEMO Operable Pergolas
The operable pergolas that Porch Outfitters installs are from the highly regarded manufacturer TEMO and are built to last. Made with heavy-gauge extruded aluminum, they will be able to withstand years of punishment from the elements without deteriorating or requiring maintenance. What's more, your operable pergola will have a slow-motion motor that is designed to provide trouble-free performance long into the future. And, you'll even get to select from a variety of decorative columns to suit your tastes.
Contact Us
For more information about the operable pergola systems that Porch Outfitters installs in Hardeeville, SC, contact us today. We're proud to have earned the trust of countless homeowners in the area thanks to our commitment to providing top-quality outdoor living products and expert installations from trained, in-house technicians whose work we back with a lifetime warranty.