An Operable Pergola Creates Flexible Outdoor Living Space at Your Hilton Head Home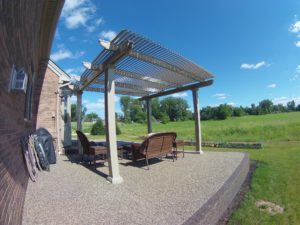 Pergolas have long been popular among homeowners in Hilton Head, South Carolina. Composed of decorative columns and slatted roofs, pergolas are perfect for defining an outdoor space, such as a patio, pool deck, or garden. However, because they only provide partial shade, many homeowners find that they have limited use. But, when you choose an operable pergola from Porch Outfitters, you'll get a decorative accent and a functional patio cover all in one.
With just the press of a button, your operable pergola can transform from a slatted roof to a solid roof. Enjoy partial shade on beautiful days and then, when the sun gets too hot or it begins to rain, simply convert the roof and continue having a good time.
At Porch Outfitters, we're proud to install operable pergolas that are made by the industry-leading manufacturer TEMO and have advanced features, including:
A heavy-gauge extruded aluminum construction that will never deteriorate
A reliable, slow-motion motor that will provide year after year of worry-free operation
Electrical raceways to hide power cables and preserve the beauty of the structure
Extruded louvers designed to effectively channel rainwater
What's more, your operable pergola will be backed by a lifetime warranty. And, it will be installed by our own team of outdoor living specialists – not subcontractors – whose work we also back with a lifetime guarantee.
To begin the process of having an operable pergola installed at your home in Hilton Head, SC, contact Porch Outfitters today.