Create a Versatile Outdoor Living Space at Your Home in Savannah with an Operable Pergola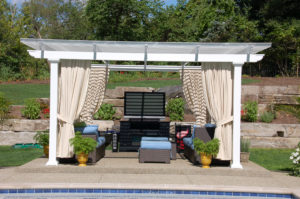 In Savannah, Georgia, we enjoy warm weather and sunshine for much of the year. It's a great place to invest in outdoor living. However, what type of outdoor living solution will maximize your enjoyment? Often, any selection you make comes with compromises. For example, a patio cover provides soothing shade and protection from rain, but what about when you'd like to enjoy the sunshine? On the other hand, a pergola provides a beautiful design accent and natural light, but no protection from intense heat and inclement weather. However, when you choose an operable pergola, there are no compromises necessary.
At Porch Outfitters, we're proud to provide operable pergolas from TEMO – the industry-leading manufacturer of outdoor living structures. By allowing you to easily rotate the slats from a vertical to horizontal position with just the press of a button, your operable pergola will provide the protection of a patio cover and beauty of a pergola all in one.
Exceptional Quality
TEMO's operable pergolas are built to last. Not only are they constructed from heavy-gauge extruded aluminum that is highly resistant to impact damage and will never corrode, but also their slow-motion motor is exceptionally reliable and provides year after year of trouble-free operation. Additionally, your operable pergola will provide excellent protection when it rains, as its extruded louvers channel rainwater away from the structure.
Expert Installation
Porch Outfitters has more than 30 years of experience installing outdoor living structures and has maintained an outstanding reputation, as evidenced by our A+ Better Business Bureau rating. All installations are handled by our extensively trained in-house crew – not subcontractors. And, we back their work with a lifetime warranty for your peace of mind.
Learn more about the benefits of having an operable pergola installed at your home in Savannah, GA, by contacting Porch Outfitters today. When you do, ask about the financing options we have available for homeowners who qualify.