Outdoor Kitchens Designed and Built by Porch Outfitters in Hilton Head, SC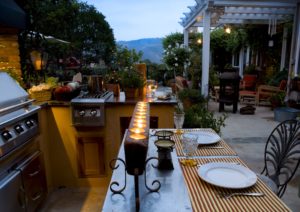 Outdoor kitchens are becoming popular for homeowners in Hilton Head, South Carolina, and the surrounding areas, and for good reason. Enhancing outdoor areas in a region that experiences a warm climate for a large portion of the year is a wise investment that not only allows homeowners to better enjoy their spaces, but also may increase the value of their homes if they decide to sell.
At Porch Outfitters, we are among the leading designers and installers of outdoor kitchens in Hilton Head, SC, and the surrounding areas. We will work with you to ensure your kitchen meets all of your needs and aesthetic preferences. No matter what you envision, we can make it a reality by installing a wide variety of:
Grill islands
Cabinets
Countertops
And more
All of these products are specifically designed for use outdoors, so you can be sure they will last long into the future. We also offer a range of accessories to further enhance your space, such as gas lanterns, grills, smokers, and more.
In addition to outdoor kitchens, Porch Outfitters is the region's most trusted installer of outdoor living products. This means that we can build patios, sunrooms, screen enclosures, and other structures with an outdoor kitchen seamlessly integrated into the design.
For more information about the outdoor kitchens, as well as the many other outdoor living products we offer to homeowners in Hilton Head, SC, contact Porch Outfitters today.