Enjoy Outdoor Living at Its Best with a Patio Room at Your Home in Bluffton, SC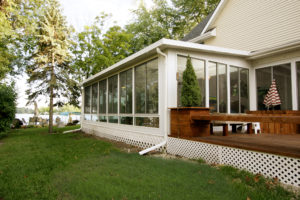 Having a patio room installed is an excellent investment for homeowners in Bluffton, South Carolina, who love spending time outdoors, but could do without the harsh sun, pesky no-see-ums, and rainy weather putting a damper on their enjoyment. As outdoor living specialists, Porch Outfitters has proudly provided exceptional, custom patio enclosures for homeowners for more than 25 years, helping them to make the most of their outdoor spaces. Our patio room options include:
Sunrooms
Our sunrooms are from the trusted manufacturer TEMO and are:
Built with premium glass wall systems that flood the space with natural light
Energy efficient thanks to high-performance glass and thermal roofing systems
Available in a wide variety of styles, such as studio, cathedral, and solarium
Screen Enclosures
Our screen rooms are custom built to meet your unique needs and feature:
Premium frame materials that are designed to withstand years of exposure to the elements with minimal maintenance required
Vinyl-coated fiberglass screens with a density of 20 strands by 20 stands per square inch, keeping even the tiniest insects out
Optional solid roofing systems to provide shade while allowing you to enjoy the beautiful weather
No matter what type of patio room you choose to have installed, Porch Outfitters will have only our own team of highly trained installers – not subcontractors – complete the project. In addition to any manufacturer warranties, we'll provide our own lifetime workmanship warranty to provide you with complete peace of mind.
Learn more about the benefits of having a patio room installed at your home in Bluffton, SC, by contacting Porch Outfitters today.