Porch Outfitters Is a Trusted Pergola Builder Serving Bluffton, SC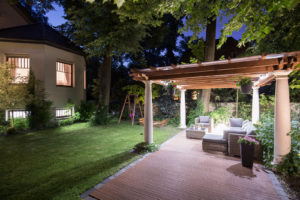 Pergolas are an ideal outdoor living solution for many homeowners in Bluffton, South Carolina. Their lattice roof creates partial shade from the intense sun, while their decorative style is perfect for defining an outdoor area, such as a garden, patio, or pool deck. If you've decided that a pergola is right for your property, then the expert pergola builders at Porch Outfitters are here to help. We offer a variety of products to suit our customers' unique needs and budgets; however, we usually recommend TEMO pergolas because they are:
Durable
TEMO pergolas are made from heavy-duty extruded aluminum, so they can easily withstand inclement weather conditions, including heavy winds, without buckling, warping, or denting. What's more, they have an electrostatic finish that makes them exceptionally easy to maintain. Plus, these pergolas are backed by a lifetime warranty for your peace of mind.
Versatile
As an experienced pergola builder, Porch Outfitters has chosen to install TEMO products because they are best suited to the unique needs and preferences of our customers. For example, they are available in a variety of styles, including attached, freestanding, and garden. Or, you can opt for an operable pergola for added versatility. These pergolas have motors that allow you to easily open and close the slats, providing the function of both a pergola and a patio cover all in one.
Get Started on Your Project
Learn more about what makes Porch Outfitters the pergola builder of choice serving homeowners in Bluffton, SC, by contacting us today.