A Pergola Builder That Savannah, GA, Homeowners Can Rely on – Porch Outfitters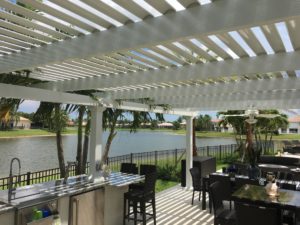 If you love spending time outdoors at your home in Savannah, Georgia, but you find the sun is often a bit too intense, then there are a number of outdoor living solutions available. For example, you could install a solid-roof patio cover; however, this would completely block the sunlight you enjoy basking in. Instead, turn to Porch Outfitters for a pergola. These structures provide partial shade from the sun while adding a decorative element that is perfect for defining a patio, garden, or other outdoor living area.
Why Choose Porch Outfitters as Your Pergola Builder?
Porch Outfitters has more than 30 years of experience building outdoor living structures and is proud to offer the industry's finest products. For example, we build pergolas from the trusted name TEMO that are available in a variety of styles, including:
Attached
Garden
Freestanding
Additionally, Porch Outfitters can install an operable pergola, which makes your outdoor living space more versatile. Unlike standard pergolas with fixed slatted roofs, TEMO's operable pergolas have adjustable louvers that allow you to control exactly how much sunlight the space beneath receives. You can even close the slats completely to create a solid-roof patio cover that will protect you during a rainstorm.
As your pergola builder, we'll ensure your project is completed to your satisfaction by having only our own team of highly trained technicians – not subcontractors – perform the installation. To provide you with complete peace of mind, we back our workmanship with a lifetime warranty in addition to passing along the lifetime warranty available on TEMO products.
Learn more about why so many homeowners in Savannah, GA, have chosen Porch Outfitters to be their pergola builder by contacting us today.