A Pergola Can Beautifully Accent Your Outdoor Space in Pooler, GA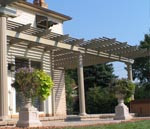 Porch Outfitters is a trusted provider of outdoor living solutions that has served homeowners since 1987. If you're a resident of Pooler, Georgia, and would like to enhance the beauty and usability of your outdoor space, one of our premium pergolas might be the perfect option for you. A pergola is a stylized outdoor accent that provides a touch of elegance to your yard as well as partial shade from the harsh sun. You can have one installed over a porch, garden, pool deck, or any other outdoor space you'd like. We offer a variety of beautiful styles, including free standing, garden arbor, and attached, to meet your specific needs.
At Porch Outfitters, we're committed to ensuring our customers receive the best possible value for their investments in outdoor living. That's why our pergolas come from the industry leading manufacturer TEMO. You'll receive a pergola that has been constructed of incredibly durable extruded aluminum that will be able to stand up against the elements for a lifetime without peeling, cracking, warping, or becoming infested by insects. Plus they have an electrostatic finish which is maintenance free.
Another way that Porch Outfitters ensures our customers' satisfaction is by providing detail-oriented installations. Unlike many other companies that use subcontractors, our installations are completed by our own team of outdoor living specialists, so you can expect your project to go off without a hitch.
Don't wait to upgrade your outdoor space in Pooler, GA. Contact Porch Outfitters today to learn more about the benefits of having a pergola installed.