Make the Most of Your Outdoor Living Area in Hardeeville, SC, With a Screen Room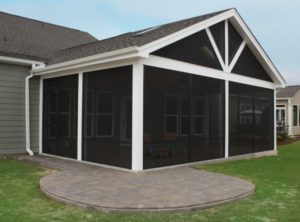 One of the best parts of living in Hardeeville, South Carolina, is the beautiful weather we get to enjoy for most of the year. However, as you're certainly aware, spending time outdoors at your home is not without its hassles. If you often find yourself forced inside by the sun's intense rays or pesky mosquitoes and no-see-ums, then a screen room from Porch Outfitters may be right for you.
Why Turn to Porch Outfitters for a Screen Room?
With more than 30 years of experience as outdoor living specialists, Porch Outfitters has earned the trust of countless homeowners in addition to numerous industry accolades. For example, we've long maintained an A+ rating with the Better Business Bureau and have received an award for Best Vinyl Enclosure from the Aluminum Association of Florida. This is all thanks to our commitment to building truly custom screen rooms from only the finest materials. For example, we build screen rooms with exceptionally durable extruded aluminum frames and vinyl-coated screen mesh to ensure long-lasting performance in inclement weather conditions.
Additionally, we offer custom screen room solutions – not cookie cutter products – to ensure your complete satisfaction. And, your project will be completed by our own team of highly trained installers – not subcontractors – whose work we back with a lifetime warranty.
For more information about the benefits of having Porch Outfitters install a screen room at your home in Hardeeville, SC, contact us today.