Custom-Built Screen Rooms for Homes in Hilton Head, SC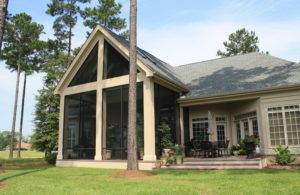 Living in Hilton Head, South Carolina, is an outdoor-lovers dream – the perfect place for those who enjoy biking, boating, golfing, or any other outdoor activity. It's also the ideal place to own a home with a beautiful backyard where you can enjoy the sunshine and lovely weather all year long. However, as local residents know, spending time outdoors isn't without hassles. Sunburns, no-see-ums, and sudden rainstorms are just some of the hazards that may put a damper on your day outdoors. Fortunately, Porch Outfitters offers custom-built screen rooms that allow you to make the most of your outdoor space.
Our Screen Rooms
Rather than provide out-of-a-box solutions, Porch Outfitters builds screen rooms to suit our customers' specific needs. This means that you can choose the size and configuration that works best for your property. Plus, we only use the finest materials to ensure our screen rooms can withstand the harsh weather we experience year after year. For example, we can build your enclosure with high-density, vinyl-coated fiberglass yarn, which is extremely durable and provides the ultimate protection against small insects.
Additionally, Porch Outfitters is the only company in the region to adhere to the strict building standards set forth by the Aluminum Association of Florida. We even back our workmanship with a lifetime warranty to provide you with complete peace of mind.
Contact Porch Outfitters today to learn more about the screen rooms we install in Hilton Head, SC. When you do, ask about the financing options we have available to homeowners who qualify.