Enjoy the Outdoors at Your Hilton Head Home All Year Long with a Screened in Patio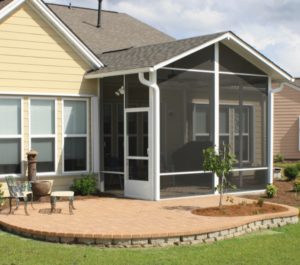 If you live in Hilton Head, South Carolina, and you would like to enjoy the beauty of your outdoor space without having to deal with the hassles, Porch Outfitters has the ideal solution. We can build a screened in patio for your home, allowing you to enjoy the beautiful views and weather without being pestered by mosquitoes or worrying about harmful rays from the sun.
At Porch Outfitters, one of the many ways we set ourselves apart from our competitors is by building completely custom screen enclosures. Whether you have a strict homeowners' association or simply want to ensure your enclosure blends naturally with the architectural design of your home, we are the company to call. We'll work closely with you to ensure your new screen room precisely meets your needs and preferences.
Our screen enclosures:
Can be built in virtually limitless combinations of sizes, shapes, and styles to suit the design of your home
Have high-performance screens that are exceptionally durable, as well as roofing systems to provide the ideal combination of shade and sun
Can be constructed with a wide range of siding materials, including stucco, to match your home's design and conform to your community's building requirements
Additionally, Porch Outfitters' own team of highly trained technicians complete each project. And, we build each screen enclosure according to the strict standards set forth by the Florida Aluminum and Glass Association, to ensure it lasts long into the future.
Learn more about the benefits of turning to Porch Outfitters to build a screened in patio at your home in Hilton Head, SC. Contact us today.