Enjoy a Custom-Constructed Screened-in-Patio at Your Home in Savannah, GA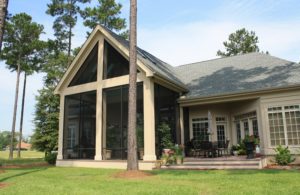 Adding a screened in patio to your property in Savannah, Georgia, provides a number of benefits that you'll get to enjoy day in and day out year after year. By enclosing your outdoor space, you'll be able to spend time in the sunshine and experience the beautiful views anytime you'd like without having to worry about pesky no-see-ums and other hassles. Your screen enclosure will also prevent your outdoor space from getting cluttered with debris, such as leaves and twigs, which is especially useful if you're enclosing a pool, as it will significantly reduce maintenance requirements.
Porch Outfitters is The Company to Turn to for a Screen Room
Since 1987, the outdoor living experts at Porch Outfitters have been helping homeowners create the backyard retreats they've been dreaming of. By custom building our enclosures, we ensure that our customers get a space that ideally matches their needs and preferences. We can even build our screen enclosures with solid roofs to provide protection from the sun's harsh rays and with siding made from stucco to meet local building codes. What's more, we use the industry's finest materials, such as specialty screening composed of vinyl-coated fiberglass yarn that provides incredible protection from insects and is exceptionally resistant to wear.
In addition to using superior building products, Porch Outfitters has only our own team of trained installers – not subcontractors – complete all of our projects. We're so confident that our team will exceed your expectations that we provide a lifetime workmanship warranty.
Learn more about the benefits of having Porch Outfitters install a screened in patio at your home in Savannah, GA. Contact us today.