Beautiful Sun Room Additions for Homes in Bluffton, SC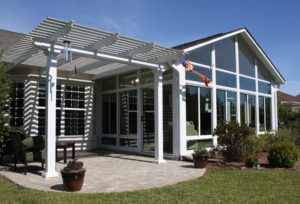 Adding a sun room can be one of the best investments you can make in your home in Bluffton, South Carolina. These outdoor living structures bring the outside in, allowing you to enjoy the beauty of your outdoor space without having deal with intense sun, bad weather, or pesky insects. What's more, because they are completely enclosed, they essentially expand the square footage of your home. You can use your sun room for anything from a home gym to a space to gather with friends and family.
Trust the Sun Room Specialists
Since 1987, Porch Outfitters has been area homeowners' go-to source for beautiful and functional outdoor living structures. Our sun rooms come from the highly regarded manufacturer, TEMO, and are built with thermal walls and roofing systems that have an incredibly durable TEMKOR surfacing. This means that not only will your sunroom be exceptionally energy efficient, it will also resist all forms of deterioration. In fact, TEMO products are so hardwearing that they are backed by a lifetime warranty. What's more, because we're so confident in the skill of our installation team, we match this with our own lifetime workmanship warranty to provide unbeatable protection for your investment.
Porch Outfitters can install many different sun room styles, too, ensuring you get exactly what you want for your home in Bluffton, SC. For example, we offer everything from an elegant studio style to a dramatic cathedral style with high ceilings. Contact us today to learn more about the stunning outdoor living structures we can build for you.