A Trusted Sunroom Builder Serving Savannah, GA & the Surrounding Areas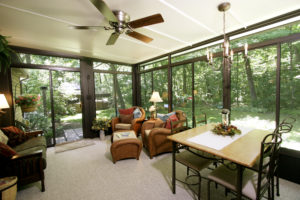 Living in Savannah, Georgia, you get to enjoy many months of warmth and sunshine. However, as any local resident knows, spending time outdoors is not without its downsides. If you've ever been enjoying time on your deck or patio only to be forced indoors by a sudden thunderstorm, swarmed by no-see-ums, or burned by the sun's intense rays, then you understand. But, what if you could enjoy the beauty of your outdoor space without having to deal with these hassles and interruptions? As your sunroom builder, Porch Outfitters can deliver exactly that.
Premium Sunroom Enclosures
Porch Outfitters is a sunroom builder known for exceptional commitment to quality, which is why we offer outdoor living products from TEMO – one of the industry's most respected manufacturers. These enclosures are exceptionally:
Durable – TEMO sunrooms are meticulously engineered from high-performance materials and feature TEMKOR surfacing – an incredibly sturdy cladding material.
Energy Efficient – Featuring proprietary thermal wall and roofing systems, TEMO sunrooms bring the outdoors in and provide a space to relax in comfort all year long.
Beautiful – TEMO sunrooms have an elegant design and are available in a variety of styles including studio, solarium, and others to suit your home.
Expert Installations
When you choose Porch Outfitters as your sunroom builder, you can rest assured your project will be completed with the utmost care and attention to detail. We have our own team of full-time, experienced installers, not subcontractors, which allows us to provide an incredible lifetime workmanship warranty in addition to TEMO's lifetime product warranty.
For more information about what makes Porch Outfitters the premier sunroom builder serving Savannah, GA, contact us today.