The Trusted Sunroom Contractors Serving Homeowners in Hilton Head, SC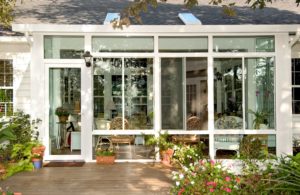 If you're thinking about enhancing your home in Hilton Head, South Carolina, by adding a sunroom, don't trust the project to just any company. The quality of sunrooms and installations varies widely in this industry, so choosing the right sunroom contractors can mean the difference between a beautiful home addition that you can enjoy for decades and one that looks awkwardly attached to your home and requires frequent maintenance.
Fortunately, it's easy to ensure you receive the maximum value for your investment in a sunroom. Simply turn to Porch Outfitters. As outdoor living specialists with more than 30 years of experience, we have the skills and training required to construct a beautiful sunroom that is tailored to your needs and blends with the architectural design of your home. Plus, we offer sunrooms from the industry-leading manufacturer TEMO that provide best-in-class:
Beauty
TEMO Sunrooms come in a variety of styles, including studio, cathedral, and solarium. Available in many different sizes, these enclosures can also be installed with solid or glass roofing systems to suit your preferences. And, of course, each sunroom we install will provide a bright, sun-filled space for you to enjoy all year long.
Energy Efficiency
Having a TEMO sunroom installed is like bringing the outdoors in. With thermal glass and roofing systems, these sunrooms will keep the space comfortable throughout the seasons.
Durability
As your sunroom contractors, Porch Outfitters will adhere to strict standards of quality workmanship to ensure your TEMO sunroom provides the performance it should. Because these enclosures are made with top-of-the-line components, including premium glass packages and extruded aluminum frames with TEMKOR surfacing, they will look and function like new for as long as you own your home.
Are you ready to begin the process of having a sunroom installed at your home in Hilton Head, SC? Contact the premier sunroom contractors at Porch Outfitters today.