Top-of-the-Line Sunroom Products Installed by Experts in Savannah, GA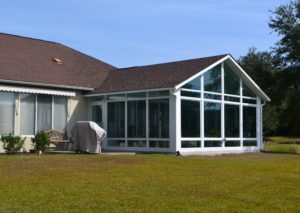 If you'd like to have a sunroom built at your home in Savannah, Georgia, the best company to call is Porch Outfitters. We have served area homeowners since 1987, and have earned an unparalleled reputation for providing premium products and installing them with expert precision. The quality of our workmanship and our commitment to customer satisfaction is evidenced by our long-standing A+ rating with the Better Business Bureau as well as numerous industry accolades, such as a Best of Ridgeland Award by the U.S. Commerce Associations for Best Sunroom Contractor.
When you turn to Porch Outfitters to install a sunroom at your home in Savannah, GA, we'll install a product from the industry-leading manufacturer TEMO. These sunrooms come in a wide variety of styles, such as studio, solarium, and conservatory, to meet your needs and aesthetic preferences. And, no matter which style you choose, you can rest assured that you'll receive an incredible value for your investment, because our products are:
Versatile – Our sunrooms can be used for everything from a home office or workout room to a space to enjoy time with family and friends.
Durable – Every TEMO sunroom is made of the finest materials and features TEMKOR surfacing that is resistant to fading, scratching, and denting
Energy efficient – TEMO sunrooms have a proprietary thermal wall and roof system, which makes it easy to maintain your desired temperature throughout the year.
If you'd like to learn more about the benefits of having Porch Outfitters install a sunroom at your home in Savannah, GA, contact us today.
TEMO Sunroom Styles
One of the benefits of choosing a TEMO sunroom is that you'll get to select the style that best suits your needs and tastes as well as the architectural design of your Savannah, Georgia, home. Available styles include:
Studio
This sunroom style is simple, elegant, and highly versatile. Available in 1-, 2-, and 3-wall configurations with a gentle roof pitch, it is perfect for one- or two-story homes.
Cathedral
Cathedral sunrooms are available in three distinct styles – Low Cathedral, Factory Cathedral, and Custom Cathedral. No matter which you choose, it will add a stunning architectural element to your home and create plenty of light-filled space for your family to enjoy.
Santa Fe
The Santa Fe sunroom adds visual interest by combining TEMO's energy-efficient thermal roofing system with a pergola lattice. It's the perfect option for homeowners who are attracted to dramatic, Mediterranean style.
Solarium
This style sunroom is ideal if you'd like to create a comfortable indoor space that is completely saturated with light. It has a glass roofing system, allowing you to enjoy the sunshine during the day and a stunning view of the stars at night.
At Porch Outfitters, our team of experts will work closely with you and help you select the ideal sunroom style for your home in Savannah, GA. And, when it comes to the installation, you're project will be handled by our own team of full-time technicians – not subcontractors – whose work we back with a lifetime warranty. Contact us today to learn more.