How Can Homeowners in Bluffton, SC, Make the Most of Their Sunrooms?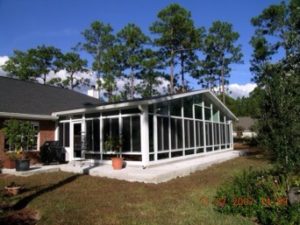 Few homeowners in Bluffton, South Carolina, would balk at the opportunity to expand the living space of their homes. Sunrooms provide an affordable and effective way to do just that. With a sunroom, you can enjoy beautiful views of the outdoors in a light-drenched space without ever leaving the comfort of your home. However, before committing to this investment, it's best to determine how you'll use your sunroom, as this will help you select the ideal model for your needs. For example, sunrooms are excellent spaces for:
Entertainment
If you're fond of hosting dinner guests or backyard barbeques, a sunroom is the perfect option for you. You can select a sunroom that will not only provide a well-lit space, but will also shield your guests from pesky mosquitoes and no-see-ums. Plus, you won't have to cancel the party in the event of a poorly timed thunderstorm.
Personal Fulfillment
Sunrooms are the ideal spaces for a wide variety of personal pursuits. For example, you can opt for a solarium style sunroom to create a peaceful indoor garden. Or, imagine creating a cozy, light-filled space for your art or yoga studio. Sunrooms even make great home offices, as the natural light can elevate your mood and help you be more productive.
For some, a smaller sunroom offers more than enough space. For example, if you plan to use your sunroom to simply enjoy dinners with family, wake up with your morning coffee, or unwind after a long day, a studio-style sunroom may be for you.
Turn to Porch Outfitters to Build Your Sunroom
No matter how you intend to use your new sunroom, you can trust Porch Outfitters to construct the perfect space for your needs. Our sunrooms are from TEMO – the industry's most trusted manufacturer. Not only are they backed by an incredible lifetime warranty, but they are also available in a variety of styles, including studio, California, cathedral, and solarium, to meet your unique needs.
Contact Porch Outfitters today to learn more about the different types of sunrooms you can select from for your home in Bluffton, SC.