What Benefits Do Sunrooms Offer Homeowners in Beaufort, SC?
If you live in Beaufort, South Carolina, then you've certainly seen plenty of sunrooms attached to local homes. You may have even felt a pang of envy, wishing it was you who was relaxing, shielded from the elements while enjoying beautiful views of your out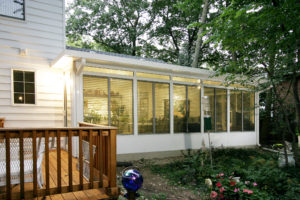 door space. However, is having a sunroom installed at your home really a worthwhile investment? This depends on your unique lifestyle. Sunrooms provide:
Flexible Living Space
A sunroom will significantly enhance the square footage of your home. However, it's more than just an extra room. Made with glass walls, sunrooms are flooded with natural light and provide expansive views of the outdoors. You can turn a sunroom into a dedicated space for a home office, personal gym, yoga studio, indoor garden, or anything else you can imagine. Or, use it as a flexible room where you can enjoy everything from family dinners to relaxing with a good book after a long day.
Increased Home Value
High-quality sunrooms make an excellent long-term investment. Not only will you get year after year of enjoyment from your additional space, but you may also see a significant return when you sell your home. In Beaufort, where the weather is beautiful for most of the year, sunrooms make an excellent selling point.
Porch Outfitters Is the Area's Trusted Sunroom Contractor
If you'd like to learn more about the benefits of having a sunroom installed at your property in Beaufort, SC, turn to the outdoor living specialists at Porch Outfitters. We're proud to install premium sunrooms from the trusted manufacturer TEMO that offer best-in-class features, such as thermal wall and roofing systems, and come with a lifetime warranty. Contact us today to learn more.