Sunrooms Provide Flexible Living Space for Homes in Hardeeville, SC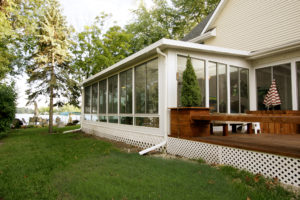 Sunrooms are a popular outdoor living addition for homeowners in Hardeeville, South Carolina, and for good reason. A sunroom allows you to enjoy the beauty of the outdoors without leaving the comfort of your home. Imagine having a space that is flooded with natural light without having to worry about inclement weather, harsh UV rays, or pesky mosquitoes and no-see-ums. A sunroom provides exactly that and much more.
Sunrooms Versus Home Additions
Many homeowners who want to expand their living space will first consider a home addition. This may be the right solution in some cases. For example, if you'd like to create an additional bedroom or attached apartment, then a traditional home addition may be the right solution. However, many homeowners simply want more flexible space for their homes and, in these cases, having a sunroom installed is usually the superior solution. Not only are sunrooms more cost-effective than traditional additions, but they are also easier to maintain. Plus, the expansive views they provide may make your home more attractive to potential buyers in the future.
Ways to Use Your Sunroom
When deciding how to best utilize your sunroom, you'll be limited only by your imagination. Sunrooms are perfect for enjoying meals with family, hosting get-togethers with friends, and simply relaxing after a long day. However, they can also be used as a gym, yoga studio, home office, or another dedicated space.
Have a High-Performance Sunroom Installed
When you turn to Porch Outfitters for a sunroom, you can rest assured you'll receive an incredible value for your investment. We install sunrooms from the industry-leading manufacturer TEMO that are constructed with thermal glass wall and room systems as well as extruded aluminum frames. Your sunroom will be backed by an incredible warranty. And, because we have only our own team of trained and experienced technicians handle our installations, we also offer a lifetime workmanship warranty.
Contact Porch Outfitters today to learn more about the sunrooms we install for homeowners in Hardeeville, SC.