Durable Sunrooms Installed for Homeowners in Hilton Head, SC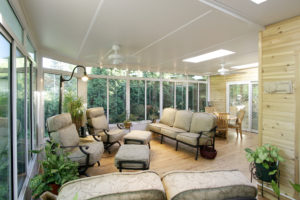 Porch Outfitters is the leading installer of sunrooms serving Hilton Head, South Carolina, and the surrounding communities. We have taken on countless projects throughout the region since 1987 and have earned an unparalleled level of trust among the homeowners we serve – a claim that is evidenced by our longstanding A+ rating with the Better Business Bureau as well as other accolades, such as a Best of Ridgeland Award for Best Sunroom Contractor by the U.S. Commerce Association.
At Porch Outfitters, we ensure our customers get the greatest value out of their investment in new sunrooms by only installing top-of-the-line products from TEMO. The benefits of these products include:
They are available in numerous styles, such as studio, cathedral, and conservatory, as well as with glass or vinyl windows.
They are exceptionally energy efficient thanks to their proprietary thermal wall and roofing systems.
They are more durable than other sunrooms because they are meticulously engineered and feature TEMKOR surfacing to prevent dents, fading, and scratching.
Just like the quality of our sunrooms, our installation services are unrivaled in Hilton Head, SC. Every technician who works for us has extensive experience and factory-training, which ensures a precise build every time. What's more, our team can perform custom sunrooms construction if your home's architectural design doesn't allow for a TEMO product.
To learn more about the sunrooms we install for homeowners in Hilton Head, SC, contact Porch Outfitters today.
Turn Your Porch or Patio Into a Sunroom
If you already have an outdoor living space at your home in Hilton Head, such as a porch or patio, our team of experts can enhance it by converting it into a sunroom. We are experienced in all aspects of home improvement and are even able to construct home additions. This ensures that we have the skills required to transform any outdoor living area into a sunroom that you'll love for as long as you own your home.
Of course, an existing patio is not necessary for us to build a sunroom on your property. At Porch Outfitters, we are a leading patio builder, and can create a durable, stylish foundation for your sunroom. In addition to premium natural stone pavers, such as travertine, marble, flagstone, and bluestone, we also offer beautiful indoor flooring, such as hardwood, to make your sunroom a true extension of your home.
What Are the Applications of a Sunroom?
One of the best features of sunrooms is their flexibility. Thanks to the energy-efficient glass and roofing systems that our enclosures have, they effectively bring the outdoors in, making the sunroom an extension of your living space. The applications of your new sun-soaked room are limited only to your imagination. Use it to enjoy family dinners, gatherings with friends, or simply to relax with a good book after a long day.
Additionally, you can turn your sunroom into:
A home office
A yoga studio or gym
A playroom for your children
A dining room or additional living room
As outdoor living specialists, Porch Outfitters can provide you with expert advice on the size and style of sunroom that will best meet your needs.