We love building beautiful custom sunrooms in Hilton Head Island, SC to Savannah,GA (across the entire coastal region) and our hard work has paid off!  We've been awarded the BEST SUNROOM BUILDER, locally, regionally and nationally repeatadly since 2014!  It's so wonderful satisfying so many sunroom customers with such high expectations on their projects.   In the Sunroom Industry you certainlly get what you pay for, and most other companies are happy to install inadiquite outdated materials.  If your looking for the highest quality Sunroom Addition for your home our team of experts (not subcontractors) is here to build your dreams.
Sunrooms are AWSOME and allow residents of the coastal region from Hilton Head Island, South Carolina, to Savannah, Georgia, to enjoy the comfort and protection of their homes while experiencing the beautiful views and natural light of the outdoors.  Sunrooms add a unique space that increases a home's living area, overall value and allow residents to be closer to mother nature in an area that is suitable for ao many of their needs.  Whether you are researching sunrooms because you'd like a beautiful area of your home in which to entertain guests, dine, a quiet retreat for reading or working while enjoying the outdoors, or a room for any other purpose, turn to Porch Outfitters. We are full-service home improvement specialists with a commitment to providing unmatched quality workmanship.
"Porch Outfitters built us a beautiful custom TEMO Sunroom that is our favorite and most used room in our home, we couldn't live without it!  

-S

un City Residents: Nick & Sam J.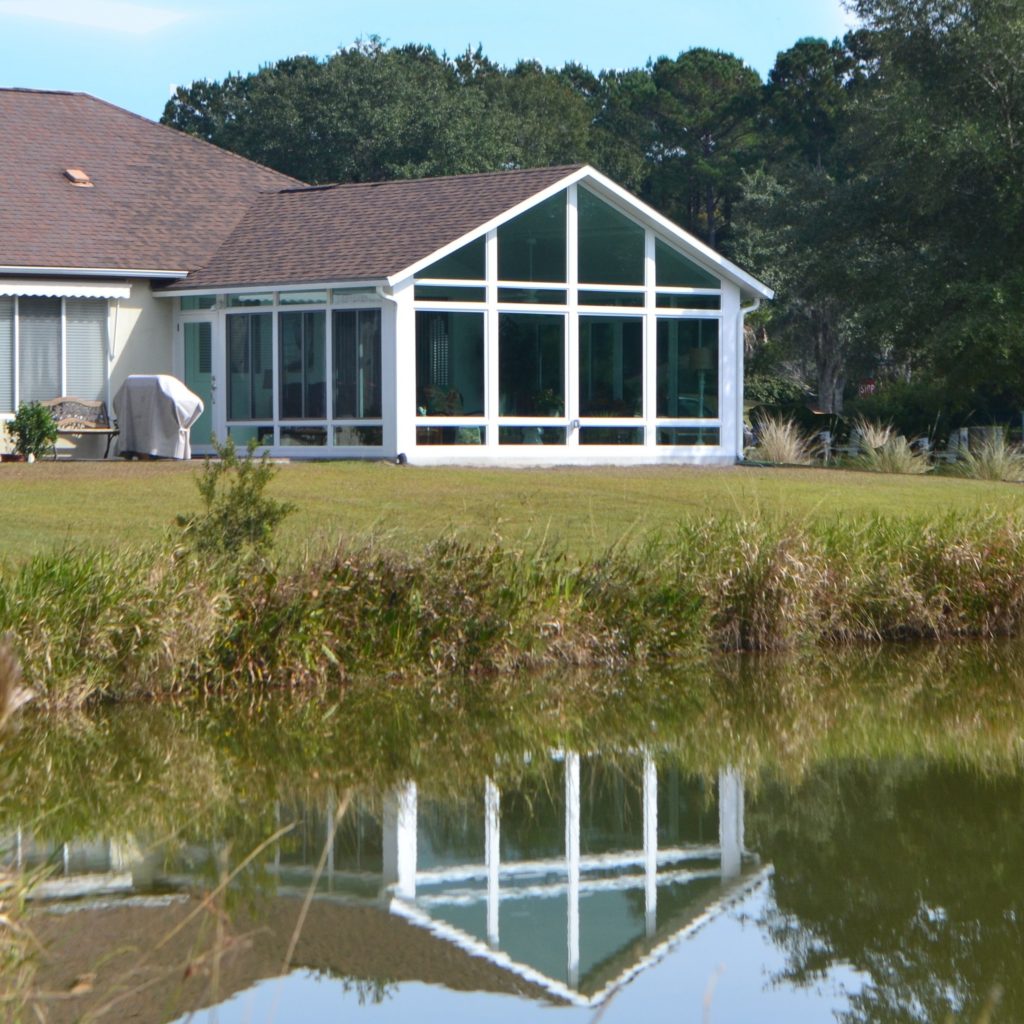 We hear that over and over again and believe that our customers from Charleston to Savannah deserve the best of the best, which is why we choose to install sunroom products from TEMO Sunrooms, the industry's leading manufacturer of high-performance outdoor living products that provide a wealth of benefits, including:
Energy efficiency – All TEMO sunrooms have proprietary thermal walls, roof systems and high performance glass which helps to keep the space comfortable all year, regardless of the weather conditions.
Strength – TEMO sunrooms are engineered to be the best and are designed for maximum strength for hurricane zones such as ours.
Durability –TEMO sunroom products will maintain their beauty and performance indefinitely because, in addition to being meticulously engineered, they feature TEMKOR surfacing, an exclusive cladding material that is nearly indestructible.
Beauty – TEMO sunrooms have an elegant design and come in a variety of styles, including studio, cathedral, solarium, and others, making it easy for you to find an option that complements your home's architectural design.
When you choose Porch Outfitters, your sunroom will be installed by a team of factory-certified, highly experienced technicians, ensuring you are able to enjoy all the fantastic benefits that TEMO sunrooms have to offer. And, you can be completely confident in your investment because we offer a lifetime workmanship warranty for all of our sunrooms in addition to the lifetime transferrable product guarantee offered by TEMO. Fore more information on everything the TEMO Sunrooms offer click here.
If you'd like more information about the beautiful sunrooms we install from HIlton Head Island, SC, to Savannah, GA, contact Porch Outfitters today and look at our sunroom photo gallery.