Enhance Your Outdoor Space in Pooler, GA, with One of Porch Outfitters' Premium Sunrooms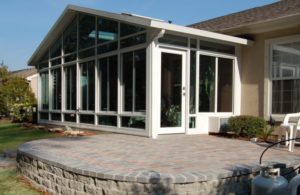 Does the backyard at your home in Pooler, Georgia, go unused for most of the year? If so, turn to the outdoor living experts at Porch Outfitters. We offer a wide range of solutions to turn underutilized yard space into homeowners' favorite places to relax and spend time with family and friends. Perhaps none of these solutions are more popular than our sunrooms, which allow homeowners to enjoy the outdoors in comfort all year long.
Top-of-the-Line Sunrooms
At Porch Outfitters, we offer sunroom systems from the trusted manufacturer TEMO. Having one of these sunrooms installed is like having an extension built onto your home, as it will be fully enclosed and climate controlled. However, thanks to premium glass wall systems, your sunroom will also be drenched with natural light and allow you to enjoy the beauty of your outdoor space throughout every season.
TEMO sunrooms are composed of exceptional materials, including thermal roofing systems and high-performance glass to help keep temperatures consistent and TEMKOR surfacing to protect the structure against scratching, denting, and other damage. In fact, your sunroom will be backed by a lifetime warranty, providing the ultimate protection for your investment.
What's more, Porch Outfitters only has our own team of highly trained employees – not subcontractors – install our sunrooms. This ensures our strict standards for quality are met and that your project is completed with the utmost precision.
Learn more about the sunrooms that Porch Outfitters installs in Pooler, GA, by contacting us today.