Beautiful Sunrooms Installed by Outdoor Living Experts Serving Sun City, SC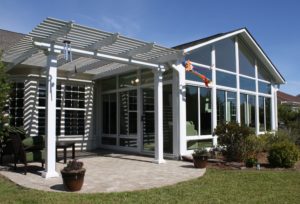 Sunrooms are an excellent investment for homeowners living in Sun City, South Carolina, and nearby areas. One of the greatest benefits to living in our region is the beautiful weather and scenery we get to enjoy all year long. Imagine having an enclosed space where you can take in some sunshine and the stunning views from your property without having to worry that mosquitoes, intense heat, or a sudden rainstorm will ruin your good time.
Top-of-the-Line Sunrooms
At Porch Outfitters, we're proud to be the area's premier sunroom installer, offering top-of-the-line products from TEMO. Some of the advanced features these sunrooms can include are:
Extruded aluminum frames with TEMKOR surfacing, which makes them extremely durable and low maintenance
Energy-efficient glass wall systems that provide expansive views of the outdoors
Thermal roofing systems that reflect the sun's heat and keep the space comfortable all year long
What's more, TEMO sunrooms are available in multiple styles, including studio, solarium, and conservatory, to meet your specific needs. And, you can rest assured that your sunroom will stand the test of time. Not only are TEMO products backed by a lifetime warranty, we'll have our own team of trained employees – not subcontractors – handle the installation. We'll also back their workmanship with a lifetime warranty.
For more information about the sunrooms that Porch Outfitters installs in Sun City, SC, contact Porch Outfitters today.