Sunrooms Provide a Versatile Space for Homeowners in Hilton Head, SC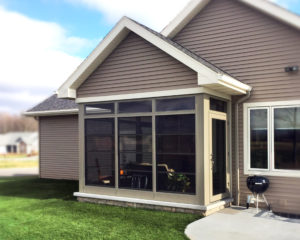 Does the outdoor space at your home in Hilton Head, South Carolina, go unused for most of the year? We're fortunate to enjoy beautiful weather, but the intense heat, frequent storms, and pesky insects can often make it difficult to enjoy the outdoors. Sunrooms provide a way for you to take in the beautiful views of your backyard without leaving the comfort of your home. However, they also add significant space to your home. In fact, sunrooms are highly versatile home additions that can be used for:
An Entertainment Space
Nothing ruins a meal faster than being swarmed by insects. Whether you love hosting intimate dinners with family and friends or inviting the neighbors over for weekend barbeques, a sunroom provides the perfect space.
A Family Room
Sunrooms can be powered like any other room in your home. Imagine kicking family movie or game night up a notch by adding a view of the stars.
A Home Office
Your sunroom is sure to be the brightest, airiest place in your home. You may find it's much easier to stay motivated when you have a large, comfortable space and beautiful views to enjoy.
A Gym
Going for a run during a scorching summer in Hilton Head can be brutal. However, cluttering your home with a treadmill or other workout equipment might not sound much better. Sunrooms allow homeowners a dedicated space to exercise in comfort. Plus, the expansive views make for a great yoga studio.
Get Started on Your Sunroom Project
There's no limit to how you can utilize your sunroom; however, before making this investment be sure you find a reputable outdoor living company that offers top-quality products. At Porch Outfitters we have more than 30 years of experience creating outdoor living spaces and are proud to offer top-of-the-line sunrooms from TEMO. Available in a variety of styles to suit your needs, these enclosures are backed by a lifetime warranty, so they'll last as long as your home in Hilton Head, SC. Contact us today to learn more.