Sunrooms, Screen Rooms, Pool Enclosures, & Other Outdoor Living Enhancements for Homeowners from Savannah, GA, to Charleston, SC & Everywhere in Between
Homeowners from Savannah, Georgia, to Charleston, South Carolina, and all areas in between turn to the building experts at Porch Outfitters when they want stunning outdoor living spaces created at their homes. We are a family-owned and –operated company with more than 25 years of building and custom home improvement experience, and are sure to create a space that meets your unique needs and suits your taste. We can build it all – from complete home additions, sunrooms and pool enclosures, to other outdoor enhancements, such as pergolas, patios, outdoor kitchens, fire pits, outdoor fireplaces, and so much more. We are the only company you'll need for your entire project, from concept to completion.
When you hire Porch Outfitters, you'll work with a team that has an unparalleled commitment to building high-quality projects that will guarantee your best value. We are recognized for both our fantastic building services and our personalized customer service. Our accolades include receiving an A+ rating with the Better Business Bureau, being named the best national sunroom designer and builder, and being recognized by the Aluminum Association of Florida (the industry's engineering authority on sunrooms and enclosures) as one of the best screen room contractors through their Master Builder Award.
We set ourselves apart from the competition from Savannah, GA, to Charleston, SC, by only offering products from industry-leading manufacturers, such as TEMO Sunrooms. Our premium products are rich with innovative features and offer the maximum value for your dollar. If you would like to enhance your outdoor lifestyle with one of our sophisticated pergolas, a gorgeous paver patio, or one of our beautiful retractable awnings, or if you'd like to expand your home's living space with one of our screen enclosures or a stunning sunroom, we'll build you a structure that maintains its beauty and functionality for years to come.
Home Improvement Solutions Including Roofing, Replacement Windows, Home Additions, Hurricane Shutters & More for Residents of Hilton Head Island, SC, Savannah, GA & Many Other Areas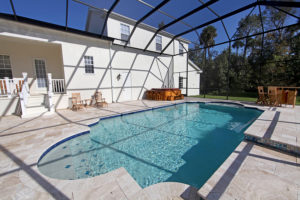 Porch Outfitters can do much more than build sunrooms and other outdoor living structures. Our owners and personnel have deep roots in custom home building, and we can perform virtually any home improvement service for homes from Savannah, Georgia, to Charleston, South Carolina. We have years of experience installing new roofing, energy-efficient windows and doors, siding, and many other products, in addition to performing interior renovations, such as kitchen and bathroom remodeling. We can even build conventional home additions that are 100 percent customized.
One of the best parts about working with a full-service home remodeler like Porch Outfitters is that your project will be streamlined, resulting in lower overall costs and installation time. You won't have to spend your time seeking out multiple contractors or cover the overhead costs of more than one company because we can perform all the work you'll need. For example, if the time comes to install new siding on your home, and you realize it may also be wise to prepare for the stormy season with hurricane panels or storm shutters, Porch Outfitters can handle both projects efficiently. Plus, since all of our jobs are performed by experienced technicians and backed by a lifetime labor warranty, you can be completely confident in our work.
If you'd like to enhance an outdoor or indoor area of your home, contact Porch Outfitters today. We are proud to serve as the premier home improvement company from Savannah, GA, to Charleston, SC.