Pergolas
The origin of the word "pergola" described tall arched structures on which grapevines climbed. They were often used in vineyards, private homes or found along scenic landscapes. In home improvement, a pergola has come to mean an outdoor patio structure formed of horizontal trelliswork supported on columns or posts. And when it comes to the origination of TEMO's pergola, pavilion and garden arbor style, look no further than Italy's architectural history.
Pergola

Cool breezes tickle your skin while sun dances everywhere but on your head.
Enjoy both sun and shade while reducing UV exposure.

Pavilion

The romance of Mediterranean style with the dappled elegance of sun and shade.
Full shade cover protects against harsh sun, UV rays, rain.

Garden Arbor

A Charming entrance to your home or tasteful delight as a garden accent.
Perfect for climbing vines or a personal tranquility haven.
Exceptional Performance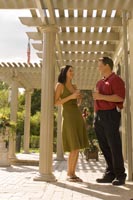 The extruded aluminum construction of a TEMO Pavilion, Pergola or Garden Arbor is superior because:
It won't deteriorate or rot.
Peel and crack resistant
It is resistant to weather exposure.
 Heavy-duty fully extruded aluminum for superior strength.
 Electrostatic finish provides virtually maintenance-free long life.
 It won't become infested with insects.
 It has more strength than roll-formed aluminum, wood or vinyl products.
Tested to withstand at least 160 mile-per hour wind loads.
 Exclusive snap-fit construction for fast installation.
 Includes a Superior Lifetime Transferable Warranty.
---
Inspired Style
TEMO patio products are beautifully crafted, for an elegant addition to any home. Each of our available three styles is inspired by the history born in some of Italy's greatest centers of architectural achievements: Rome, Florence and Venice.
Our Roma style, with squared posts brings bold sophistication to any home combined with the strength of extruded aluminum to last a lifetime elegantly grooved, and a double-header beam with ornamental beam flair which perfect the design.
Built upon the beauty established in Rome, our Florentine style takes the essence of our Roma's square posts, and reinvents it with square columns, structures with the gentle curves of fluted columns.
Once again, Mediterranean style is born, transforming your home into a, Venetian palace. This style adds a romantic element to any of our patios.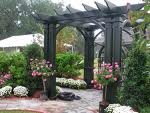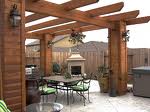 Porch Outfitters is a general contractor and therewith, comes the ability and means to not only sell top of the line manufactured pergolas from TEMO, but the ability and the means to build extravagant wood carved pergolas. Turn your yard into an oasis, a relaxing tree house fit for an adult!