Outdoor Living, Patios & Hardscapes for Homeowners in South Carolina & Georgia

Based near Hilton Head, Porch Outfitters has been providing patios and hardscapes since 1987. We've earned the trust of local homeowners by providing truly custom solutions, creating beautiful and functional outdoor living spaces that they are proud to show off to neighbors, friends, and family.
The Lowcountry, Savannah, and the entire Coastal Region enjoy outdoor living spaces more than inside spaces! There is no better way to relax, unwind, and entertain than a luxurious patio with all the amenities. Porch Outfitters is known to create the best outdoor living spaces including custom patios, retaining walls, fire features, and outdoor kitchens.
Custom Solutions for Your Outdoor Space
To create a functional outdoor living space that you and your family can enjoy year after year, you need to start with the fundamentals. Porch Outfitters' custom patios and hardscapes will create a beautiful foundation on which you can create whatever you'd like.
Additionally, you'll have an incredible selection of patio and hardscape options to choose from:
Lowcountry Pavers
Travertine Pavers
Natural Stone
Stucco
Cultured Stone
Concrete
Tabby (A Lowcountry favorite incorporating
oyster shells as a building material)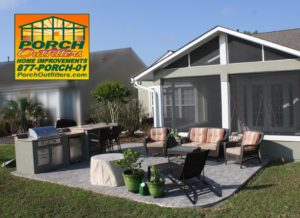 You won't find any cookie-cutter solutions when you partner with Porch Outfitters. We work closely with our customers to build truly custom patios and hardscapes.
For example, we can mix and match materials, colors, and styles to create a look that is uniquely your own. And, of course, we can build your outdoor living space in any size and configuration to suit your lifestyle.
Once your patio and hardscape project is finished, you won't have to find another contractor to create your dream outdoor living space. As a one-stop shop, we offer custom fire pits and fireplaces as well as custom walls and outdoor countertops that feature grills, outdoor kitchens, and private bars.
Service You Can Count On
Porch Outfitters specializes in outdoor living solutions and has a team of full-time specialists, not subcontractors, complete all of our projects. This ensures that every aspect of your project will be handled seamlessly and reflect the highest standards of quality workmanship. For your peace of mind, we even provide a lifetime workmanship warranty.
Based near Hilton Head, Porch Outfitters is proud to provide patios, hardscapes, and complete outdoor living solutions for homeowners in South Carolina and Georgia. Contact us today to learn more.
Check out our Outdoor Living Photo Gallery today